Be you, Show who you are, Be you, And not, What the world, Wants you to be, Be you, And, Only you. Why, Because you are ENOUGH!! The MoC
Those dealing with mental health issues are a lot stronger than one might think. We must fight to get up in the morning, get ready to go to school or work, take care of our family and friends while battling this toxic disease. Please remind yourselves that the disease doesn't define you. Your strength, courage, and self care however does define you. We didn't ask for this disease, it was imposed upon us. All we can do is our best in fighting this disease just by taking one day and one obstacle one at a time. Don't let the disease control you, you can control the disease. Think of the disease as your inner storm and we must search for that rainbow. Never give up on yourselves, life is too short and you are all beautiful, worthy, enough and loved. Hugs The MoC
Hey guys I was diagnosed with Ptsd and I'm scared and don't wanna go through it alone. Can anyone else relate with this? I'm not new to the diagnosis but I'd still love to connect.
Can some1 just kill me? Im not ok and im not going to be... ever.
Friends vs YOURSELF We often get tired, not because we've done too much but because we are emotionally overwhelmed. Sometimes we're afraid to loose our friends but we should be more concerned about losing ourselves by pleasing others. Sometimes finding yourself means losing a friend. Love yourself first. You owe yourself the love that you generously give to others. True friends are meant to stay by our side regardless. If your friends don't fight for you they're not right for you. Be true to you and love yourself because no one will do it better. Hugs The MoC
Wishing you all an awesome good night sleep and may you wake up tomorrow morning feeling refreshed. For those who are waking up, I wish you an awesome day. May you all find your inner strength and inner love because you my friends, are so fucking beautiful, worthy, enough and cared for. Hugs The MoC A friend who cares.
A Shade of Blue If I was a famous painter, I wouldn't change your colours, I wouldn't change, The blue in the sky, I wouldn't change, The softness, Of my soul, I would remove, The darkness, In your eyes, I'll paint a hand, To dry your tears, I'll paint a sun, To warm your heart. The MoC
🪴🪴🪴PMA🪴🪴🪴 ♥️ Welcome Home - Najwa Zebian ♥️📖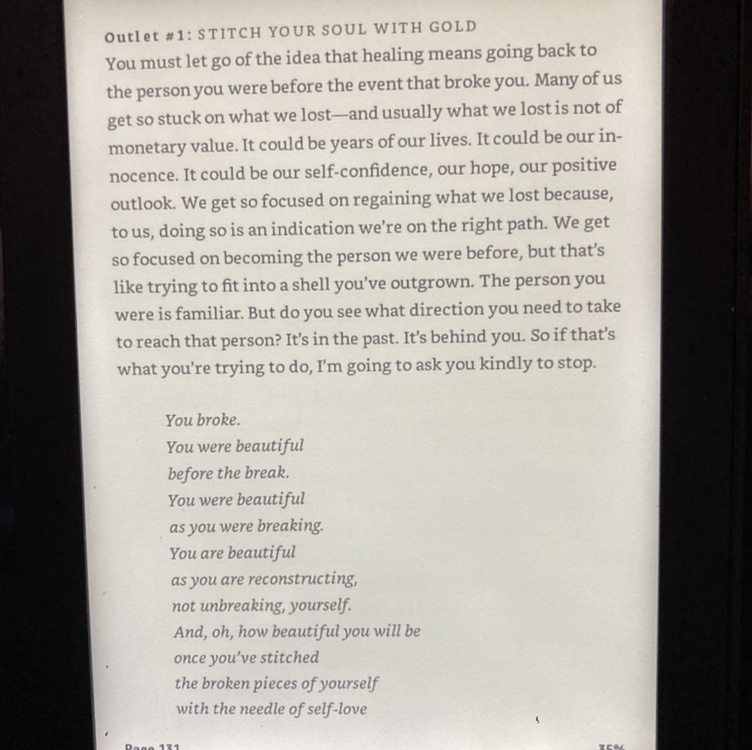 Stay strong, believe in yourselves, don't forget to take care of your inner needs and keep on fighting. Don't forget to celebrate your victories, small or big, they all count. You are all beautiful, worthy, enough and cared for. Hugs The MoC
I recently suffered a car accident. My ex partner ran me over with his car. He followed me as I was on my way home and ran me down. I fell down a hill, hit into a pole. My head hit The steering wheel. Finally my car hit the concrete wall and that's when the car finally came to a stop. It was one of the scariest experiences of my life. And I've had some pretty scary experiences. The worst thing about all of this is he had the support of his family in court, support from his boss and lawyer. And all I had was the police who got another incident/crime my ex committed against me wrong and on top of that didn't mention my injuries or state that I can no longer work anymore. While he will probably have his old job now that he is out. I'm in pain, my spine is fucked. I'm so angry and say. I can't believe it. And he is out here now out of jail acting all smug. I just wanna push his face in the ground so he doesn't smile that way again for something so disgusting. What he did was disgusting. I need someone to talk to right now. Anyone. I had to move because of him, in order to protect myself. He only was in jail for 5 weeks. It's ridiculous.
Hey guys, I have Ptsd from mostly abuse but some of it is car trauma. The flashbacks are pretty okay right now. I'm not having too many flashbacks..
I just need someone so bad
Life is always about balance and we always need to search within our souls to find our inner strength. Every day is a new beginning. You are the artist of your life, don't let anyone control your paintbrush. Let your paintbrush stroke your day. My diary is my arts and I paint my light and my darkness on paper or canvas. Find your purpose and carry on. Hugs The MoC
Trigger warning: * violent rape * So a few years ago I was violently raped by a partner - locked in a room for hours on end till bleeding and given severe permanent cervical damage, PTSD and a lifelong STD. I now have a new partner. The first partner I have been okay to even speak to in over 3 years. Sometimes I can be sexual with him but other times I either 'detach' completely, feel sick, get flashbacks, have to stop, want to throw up. Sometimes have had to get up to go to the toilet to be sick or have simply stopped and said 'I can't do this' and felt numb…completely. I get hurt by words completely unrelated and overly emotional again …it is as if since we got together my PTSD is on high alert again? I don't know how to stop it and it is beginning to affect my relationship … he is in the military and leaving soon, but the guy who did this to me was also military - I wondered if it was because of that, or because I am in the first relationship since what happened. None of the grounding techniques or techniques from my psychotherapist are working and I have taken to burning myself with a lighter to bring myself back into the present because my flashbacks have been lasting so long… He suffers from PTSD as well and I seem to be helping him with his and his PTSD is not as bad. But I am getting worse 😞 I really love this man and I want to get better…does anyone have any advice? I don't want to push him away I really love him :/ Did anyone experience anything like this? My nightmares and night terrors are worse too and I even woke up and had pissed myself and had to explain that to him (he was very understanding) but I felt so ashamed. 😞 I have been trying deep breathing as well as 5 things you can see, hear, feel, taste, etc but … I don't know. It doesn't seem to be working.
I've shared this at the coaching session that I attended this morning with the incredible Shelley - Joyful Retirement. I thought I'd share with you in hopes that I will touch someone's heart. Everyone comes with baggage. We need to unpack and learn to live our life. A steppingstone towards a happier and healthier life. Not all baggage are positive or negative. However, in my experience emotional baggage can be heavily overwhelming. I can say that some of my baggage has made me stronger, wiser, a better listener and a better friend. Some of my heavy baggage has molded me into a softer and more sensitive soul. I personally think that we often carry others baggage. We should make a list and check how many actually belong to us. You'll be surprised that most of them don't. Maybe it's time to turn the excess negative baggage in the trash. Let's climb the mountains instead of carrying them around. I often try to verify my baggage and trash what doesn't belong to me. If it's not ours, it's that time to let them go. If you have no control, the trash will get full quite fast. I'm no different, I just do my best to let go and live my life without the heaviness. Some days are harder, but hey, one day at a time. Like I said earlier, a steppingstone towards what we deserve. A life with less heaviness in our baggage. I've learned recently not to carry all this negative and heavy weight, especially if it belongs to someone else. We can manage our own positive and negative baggage without carrying someone else's. Live, learn, inhale the good shit and exhale the bull shit. Why? Because we are enough to let go of the heaviness that we've been carrying around for so long. Hugs The MoC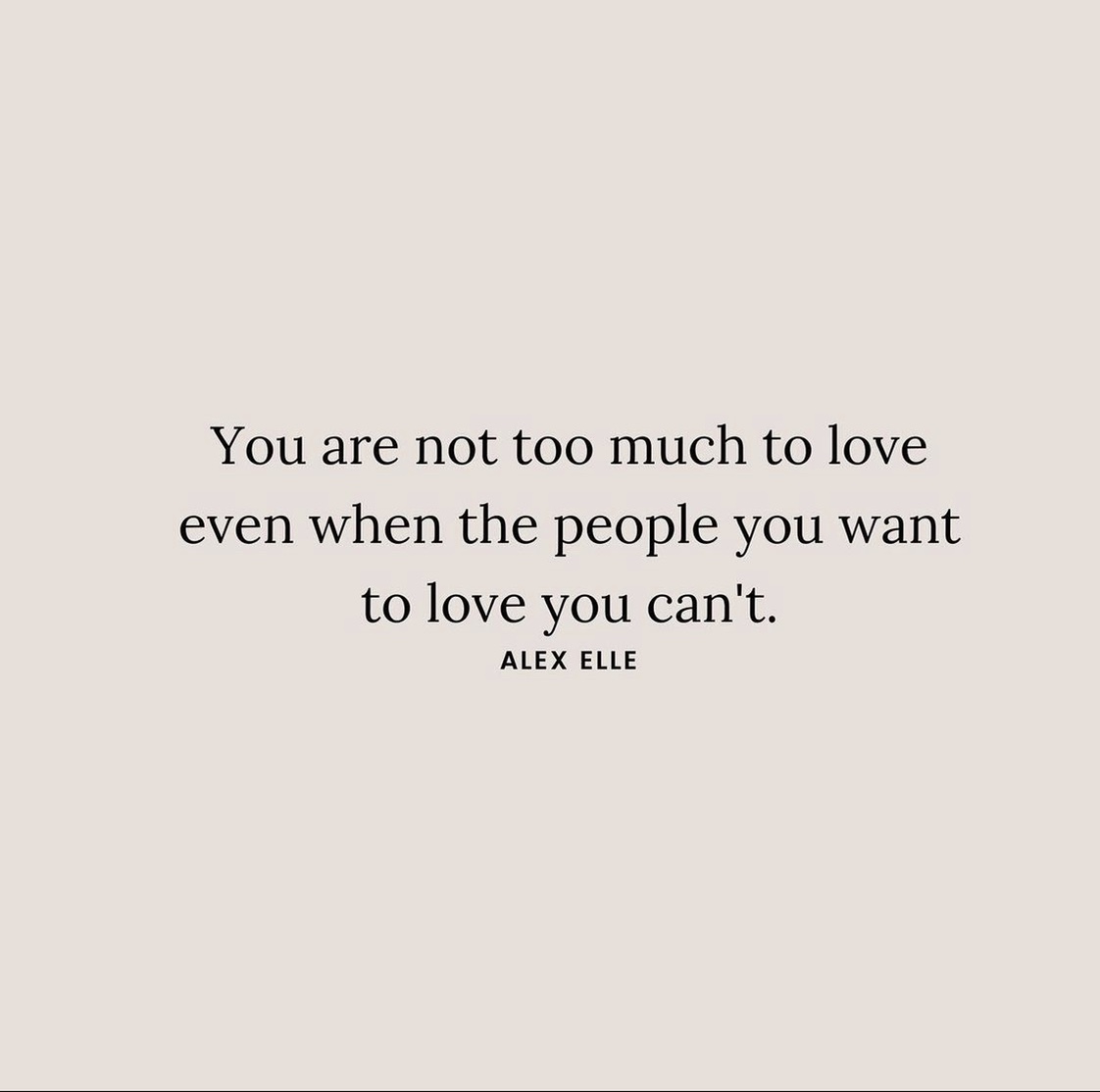 Feeling really out of control right now all I can do is think about my past and things I should've or could've done differently and all the people I've lost along the way I feel like it's all my fault and no one wants to be around me because of my trauma I'm doubting my trauma again and going down memory spirals going as far as looking at old pictures and videos almost wishing I could go back to who I was before I understood the severity of my mental illness which is so stupid because I'm so much better off where I am right now I just miss having people around
I've been struggling with flashbacks and staying in a freeze response state this week. One seemingly small moment was all it took to trigger me and now it seems like a huge battle to get through the day. Sending love to you all that are struggling with the nightmare that this can be 💜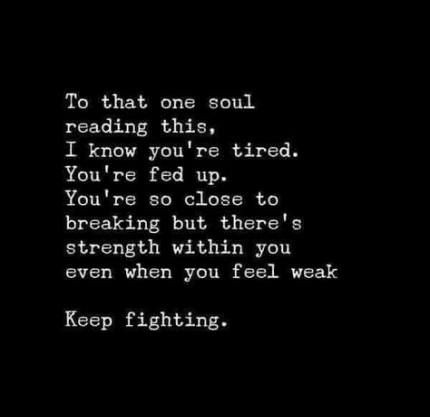 If You Let Me If you let me, I'll show you how to love, If you let me, I'll show you how to cry, Through your darkness, And through your fire. If you let me, I'll do anything, To help you, Dry your eyes, And make it through, Another night. The MoC
Hello lovely people, I wanted to let y'all know that I wrote a short story/poem.. one that comes from my heart.. that is full of emotion.. expresses my pain from multiple traumatic events I've had throughout my life. I'm in a place in my life where I am happy and I've healed so please know that I'm sharing this out of a place of wanting to share something special I've written and I want to touch people's hearts. It's not triggering for me to share. I've turned my pain into something beautiful. With all this being said, if you are going to be highly triggered please don't read it. If you are interested in reading it or you think it would help you connect with me or close a chapter in your life.. please reach out, I'd love to send it to you 💜 You all are so strong & loved😌🦋
I have 25 times criminal attacks, more that 50 times head injuries, 14 times my hand legs broken, millions times heart broken after my dad died. Yes I have PTSD . I don't feel any pain . Push yourself , say yourself I am awesome I am different, saw yourself I love you, say your self I am loved , say yourself you only one , say yourself you are Nafida. Nafida mean unlimited. How many times will break you . You will come back again for fight for right. Be positive no matter what come to your life . Have patience and say all will be will one day.
Hello everybody! Join us for this amazing session hosted by Dr Gill at 2 PM EST on Post traumatic growth. Come and learn with us and meet new friends! Everyone is welcome. Here is the link to join
https://us02web.zoom.us/j/83714542039
💜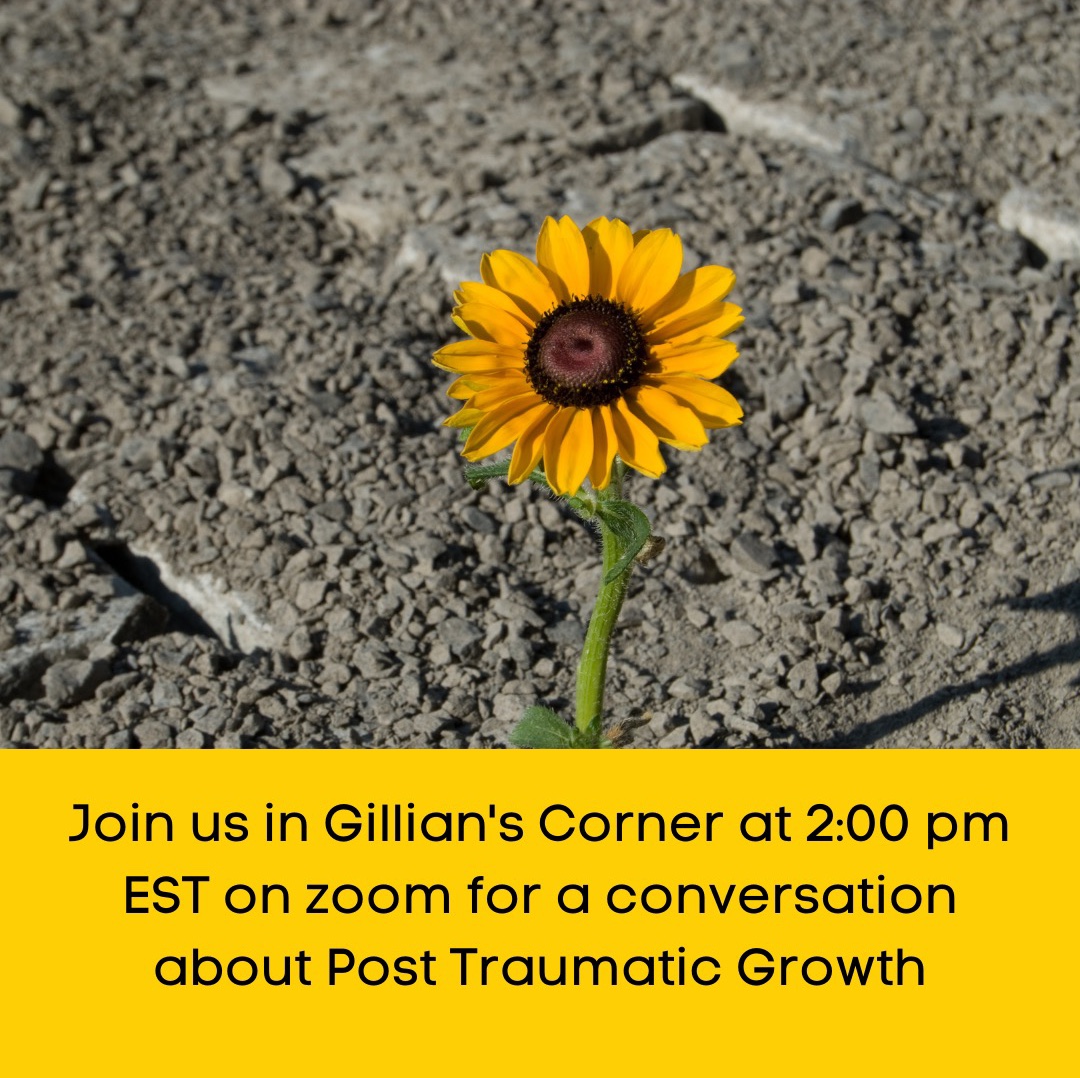 Keep patient good things come in end
I have been doing well these last few months. But in the last week the nightmares have started again. I don't know what triggered it. I'm so tired but scared to go to sleep.
Some of the most comforting words in human interaction are "me too." That moment when you find out that your struggle is also someone else's struggle, that you are not alone in this journey and you feel the comfort from being heard and safe in their presence. 🤗
Was never able, To swim, When I felt, Like I was drowning. Was never able, To run away, From the highway, Of life's silence. I felt life's heaviness, I felt the darkness, Of those heavy clouds, And, Heavy winds, Swirling around my soul. It probably doesn't even show, That I've been battling, With my own, Inner demons, Looking for a way, To get away, From this highway. The MoC
Feel lik im not making it .. I try so hard An jade nothin to show in end it jus don't make sense
Facing my inner self Sometimes, I don't feel like a person. All I feel is hatred, stress and emptiness. The fact that I let myself be bothered by stupid and ignorant people bothers me. It's hard for me to relax when my fucking mind keeps on running at high speed, analyzing, thinking and overthinking. The blood rushes through my veins like if there was no tomorrow. I hate it when suddenly my anger turns into tears. I'm ugly, I hate myself for overthinking and analyzing every fucking battle that comes my way. It's difficult to destroy the demons within me when no one else was holding my hand. Sometimes I feel like I have to smile and go on until I hit nightmare-land. I have to keep it together and keep my tears at a certain level so I don't drown. I keep on bleeding tears and there doesn't seem to be an escape from my fucking sick mind. Hitting rock bottom or being buried alive seems similar to me. Facing my inner self is depriving me from relaxing or enjoying what life has given me. Dealing with theses unwanted feelings is unbearable. All this to say that I will make it through the storm, with a smile, like I've always done. The MoC
You couldn't heal because you pretended you weren't hurt. No matter how the memories are heavy on your heart, there is still a reason why you're still around. A year ago, you probably thought you wouldn't be here, but something made you stronger without you knowing. Be graceful for how hard you worked. Congrat yourselves for making it this far. It takes a lot of courage to wake up in the morning, especially when the world doesn't see through your lenses. You are brave, strong, enough and worthy. Believe in yourselves. The MoC
I'll never let you in, Cause every time, I open up, You hurt me. I'll never chase you, Cause every time I do, You let me, Drown in the sea, The sea of darkness. I'll never let you in, Cause you're a heartbreaker, Just playing games, Thinking it will, Bring you frame. I'll never let you in. The MoC
Sometimes I picture myself going to my abusers house and kicking the door in and beating the living shit out of him. Risk it all just to make him feel the pain I feel. He might not remember half of it bc he was so plastered but I relive it everyday. I fucking remember. It's not fair.
We will live has one. Let's open up our hearts, Because we're all, The same inside, We all bleed red, We all breath the same air. We gotta search, Within ourselves, Inside and out, Purely open up, To showcase, Our true colours. One day, we will be one. The MoC
I am living in "healing is not linear". Tired of experiencing the same things again and again but I got nothing else to do so here I am, trying this app