I see that we were talking about boundaries earlier in the chat and I found this super helpful doodle! It outlines boundaries in everyday life and they're so important to make sure we're not overwhelming ourselves! Would you like to share about your experiences with boundaries or learn more about how to identify and set them? Let me know and I'll be happy to share more details! ☺️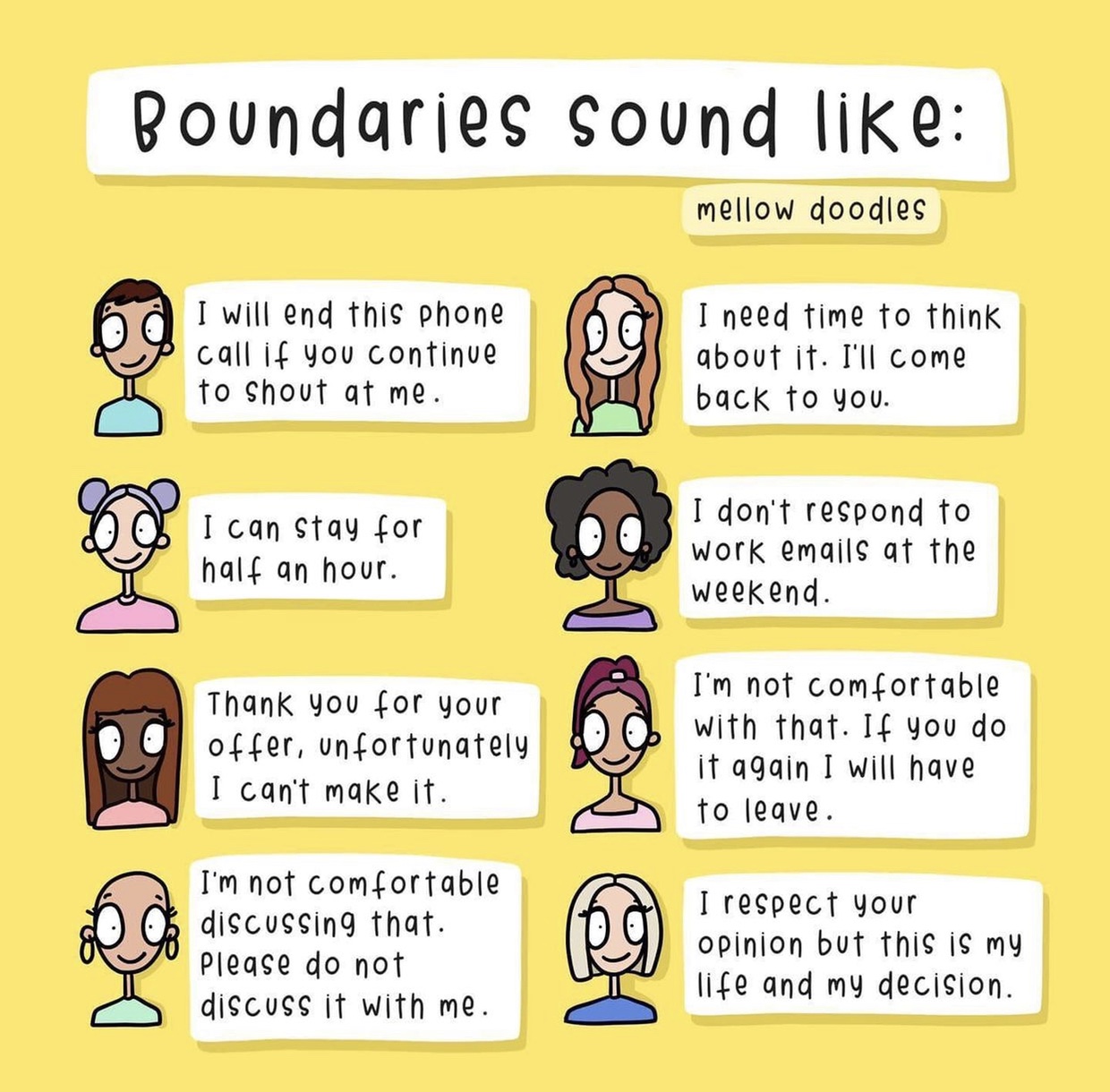 morning message to you ♥️: i'm proud of you and you're supported! be safe today! have a great day and God loves you!
We can all be Role models to others by our actions and care for people where they are in their lives by lift each other up!! Spread Kindness to make this world a Better Place for everyone!! 🙂💯👍👍
Everyday brings new experiences, new memories, new joy, new disappointments, new hurt. We are all carrying around an invisible mental weight. Is that weight the balast that is in your core and keeps you steady upright and moving forward or baggage, feelings that have not been allowed to run their course and hung around? Join us at Joyful Retirement on Monday morning at 9am central time as we discuss ballast and baggage.
Hey everyone! Say hi to a @donna-j let's give her a warm Wisdo Welcome ❤️ @lorraine-le-sueur @hello-k
We all carry emotional baggage. It is different for all of us. It doesn't matter if you have five big duffle bags of anger, hurt, bitterness, and pain or a clutch of regret and remorse there is a point when this baggage becomes too much, and we realize it is a devastating impact on our relationships. Join us at Joyful Retirement on Monday at 9 am central time as we discuss ways to jettison some baggage.
With the right people, you grow everyday. You grow from their kindness, you learn from their wisdom, and you heal with their love. The right people will nudge you in the right direction, and make you feel worthy as a person. Surround yourself with these people. I saw a post a while ago that said "Surround yourself with people that feel like sunshine" - very interesting way to put it! I would love to hear your thoughts - What does daily growth look like to you?
Forgiveness is essential to getting rid of emotional baggage. Not forgiving and carrying around anger is like hauling around an extra bag all day, carrying stuff that is weighing us down and slowing us on our journey. When we forgive, we let go of the emotional baggage that can keep us back. Forgiveness frees our hearts and minds, and lets us live in peace. Join us at Joyful Retirement on Monday at 9am central as we talk about forgiveness.
So absolutely correct. I will try real hard to catch this talk.
Hello Boaz, thank you for the invite. At this time, I sincerely cannot join, though at the time I learned about Wisdo, I thought I could. Currently my life is a bit complicated so I've not been opening your emails and for awhile, I still won't. Again, thank you. Mary aka Mare
In case you needed this today: Here's to you for surviving through the day. Today is tough and overwhelming but you managed to get through. There are things you wished you didn't do but you're learning as you go. Be proud of your slow and steady growth.
gentle reminders for you: ⋅ don't forget to take care of yourself! ⋅ you deserve to be happy and healthy! ⋅ you matter. you are important. you're loved!
Thank you Jay Jay. Very special and touching words.💜🙏
Good afternoon all, Just feeling very anxious right now Got a job interview in 2.5hrs and I don't wanna go I get like this with all my interviews it's unbelievable that I've worked for 15yrs. When I get nervous I F up or I don't like asking a person to repeat themselves only cause I hate having to do so.
I am greatful for so many things. I'm very greatful that I didn't get pregnant by my step father, I'm greatful to have lived through to abuse of many years. I am so greatful for NOT following in my mom's foot steps. Greatful for God and my family. So greatful for all of you.
So very true and important.
Communication problems between people is universal. As a life coach communication is one of the skills I am often asked to help with. Effective communication does not just happen. Anybody can talk, not everybody can communicate effectively. The purpose of communication is to relay information from one person to another in a way that the sender and receiver understand the message. Join us at Joyful Retirement Monday morning at 9am central time as we talk about communication barriers. (From home page go to communities, click on Joyful Retirement, Enter group)
You see, sometimes, on our way to healing, we focus so much on trying to fix the wounded parts of ourselves that we get stuck with judging our flaws than healing. But, the only way to heal is through acceptance. Accepting that your flawed and wounded while loving yourself anyway.
How can I get rid of extroverts from my life without doing any harm to any of them?
GoodMorning You Guys Are Worth It And Amazing, Remember That❤️, YOU GOT THE JUICE
It is 💯 True Always Remember You're Amazing!! 🙂❤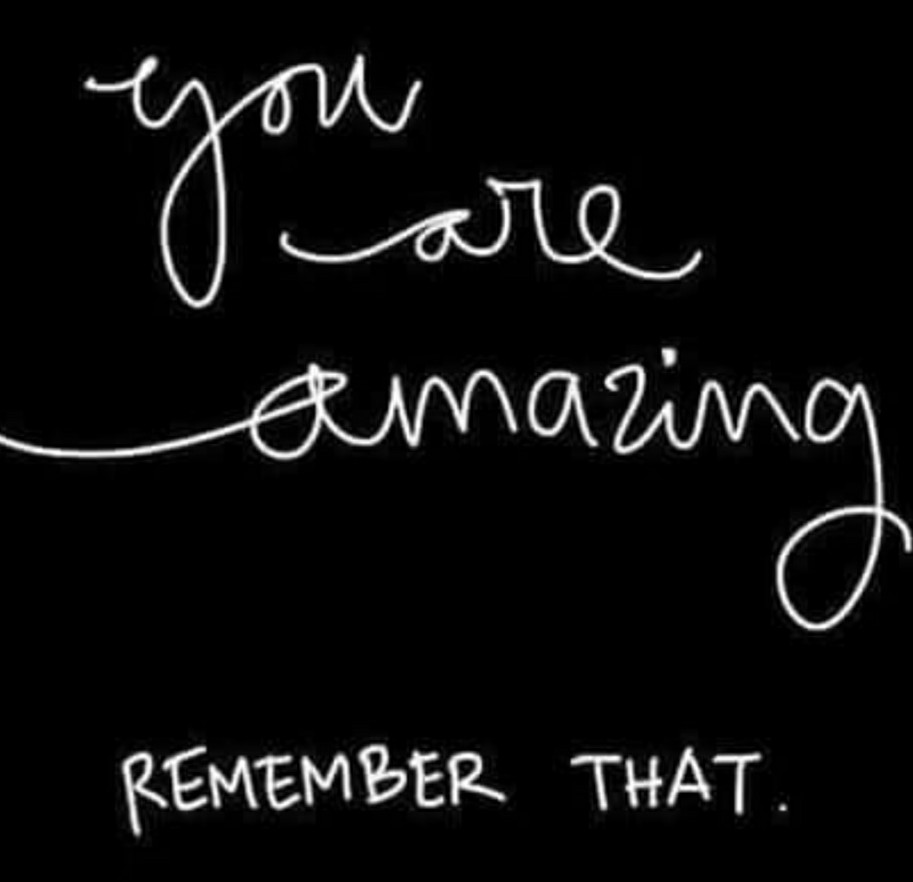 in case you haven't been told for awhile, or in case you don't feel like it. you are wanted, loved, & full of purpose.