I'm here tonight if anyone needs me my messages are open 💗
TW "You're a big, strong 💪 man, stop thinking you're a girl and be STRONG, you're not a freak so don't choose to be one!" what I am going to have to put up with over the next few months now that I am no longer living at uni 🤪
If anyone needs help or someone to talk to my messages are open 💗
Just know everyone here I love you all and I'm so proud of you for taking the courage to help others and find help yourself. Keep your head up and always know if there's anything you need I'm always here for you!
Is there anybody on here that is just looking for friends? I can listen and help with anything if needed.
So me and my boyfriend have been together for several years now. And we were laying in bed the other night. And I spoke up and asked him what were like is fanatics in or out of the bedroom. He finally spoke up and said something about a threesome. And completely caught me off guard. You got to understand that he's never said anything like this to me before. Guess what I'm trying to say is I'm not totally against it but don't know what I should do from here.
Hi guys! So the girl that am talking to she has a problem with accepting her sexuality because of her surroundings…..she said she is scared of falling in love with me cuz she is scared to be broken and that's her first time to love someone…she haven't seen anyone of her family had a healthy relationship or even her friends….so she is so scared……any advice!!!!(I really wanna help her to be comfortable with her sexuality
Any tips on coming out as none binary? I am now sure but it's all so new
we used to talk every single day until she suddenly changed… we didn't date, no one confess, but my feelings for her are still the same to this day..
She used to talk to me everyday, being so excited about sharing her day to me, the goodmornings and goodnights, now not even checking my messages to her for a whole day or 2-3days.. even tho she's online in another app everyday sending snaps to other people.. it's always me who gets left behind by people i care about genuinely.. i notice, i always stay, but people always leave first.. what am i lacking? what i need to change about myself so people will choose to stay with me? i always try my best to respond to them as soon as possible, because i dont want them to feel ignored, because i know how painful and sad it is to be ignored.. but they always do this to me.. I always feel unappreciated and unwanted, it sucks that people always approach me first, showed that they're interested but after i showed that im interested as well, they'll just disappear.. i dont know what's wrong with me, why i am not enough, why i will never be enough to people i care about? their feelings change so fast, but mine doesn't.. and it sucks always being left behind and stuck moving on from them.. Sometimes i just think, maybe i should just be like them, maybe i should start ignoring people as well like how they treat me, maybe i should just do that, but i really cant… it's so hard for me to ignore people.. because i dont want them to feel that they're unwanted that they're unappreciated.. because i know how painful it is.. i know that people deserve better treatment than that..
I have a hard time talking to people which sucks cos it makes it harder to find someone also doesn't help that I don't really want to be alive either so life sucks
Hi lovely souls ☺️ It's nice to meet you all.. I've been on wisdo for a while but I'm new to this community on here. If any of you want to talk feel free to reach out to me. But also read my profile and be considerate of me and what I expect in my connections. I came out last year and I'm so happy that I did. Can't wait to get to know you all
I'm in love with this girl that lives in montreal.. I live in Ottawa. no one compares even though I recognize other peoples beauty and see their potential, simply nothing compares to our connection. I don't know if I'll ever find someone like her and it makes me sad and frustrated:/
I'm ready to give up… I'm done I can't do this anymore
I need to talk to someone please
Anyone awake, who can't sleep?
My parents don't believe I have gender dysphoria. They refuse to believe it, and I'm guessing it's because it really hurts them alongside their religious beliefs. What can you do when you know your parents really love you but don't know how to help you? Particularly when you are torn between how you feel and how they feel? Sometimes I don't even think I am trans, BUT the aching emotional pain and disgust at my own body comes back in waves and is intolerable. It's awful and it is hard to describe unless you've been through it yourself. I feel like I am betraying a family who loves and cares about me from doing this, from wanting to leave and go ahead with seeing the Gender Identity Clinic. But at the same time, I can't keep feeling suicidal or wanting to self harm because of my sexual presentation and the limitations (socially and emotionally) my gender imposes on me from society. These feelings do NOT go away. The hardest part is that I wonder if I really am quite messed up, as I've never identified with the hyper feminine (wearing pretty dresses etc.) yet still desire the secondary female characteristics so badly. I am in a mess. I don't want to lose my physical strength or standing as a 'man' in society full time, but I also cannot bear feeling dead inside any longer.
Looking for a friend to chat too!! Feeling lost and would love some guidance.
Has anyone got any advice on how to come out to non accepting family? I'm non binary, there are 3 people in my life who know I'm non binary, two of my friends and my partner. But every time my family misgender me it makes me hate myself and the body I was born in even more. But they "don't believe" that being non binary is a thing. I was speaking to my mum about my friend who is nb, and she outright told me that they were ridiculous & attention seeking. What do I do?? Any advice is welcomed
Need help with my relationship. My partner is non binary and they're worried i see them as a girl but they kno that im straight and im a man like im just confortable in my body as that. I feel like my attraction to the one anatomy is affecting it because rlly i dont see them as a girl a guy i just see them as themselves as an individual but i cant help that i like the female anatomy its what my sexual attraction is. its just who i am and ive questioned my sexuality before and ive even had my doubts about wether or not im the right gender but ive come a long way to realise that i am who i am and as much as i love them and have done everything i can to make them feel comfortable i feel that me being a straight male is just always gonna be something that plays on their mind. Im okay with being in a queer relationship and ive always said if it comes down to me liking a different gender then it wouldnt bother me id embrace it cos we're all born different and it shouldnt matter who u love and i support anyone whos going through it but i feel as if i lose them because of it :( any help would be appreciated i can see myself spending the rest of my life with this person but im rlly worried that it will always affet them
Tried coming out to my mom at 14, reaction was horrible and in response of that I said I was joking and that it was a prank. Now I'm 20 still haven't come out to her, scared to because although she says she's not homophobic, I know she is a little just by some of the things she say. But I don't know what to do because I don't wanna look ahead five years and I'm still hiding who i am.
Does anyone know video editing
I think I'm bi but don't know how to tell my fiancé has anyone else been through this ?!
Okay so I've been dating this girl for just about 2 weeks now and I've been starting to meet a lot of her friends/ going out with them.. one night we were all over at someone's house (her friends) we were all drinking (not super drunk or anything though) just talking and one of her straight girl friends was looking at me a lot and then at one point she was like showing her leggings for some random reason kinda pushing out her ass and looked at me to I guess see where I was looking?¿ or honestly idk why but it all intuitively felt like she was looking for my reaction. After that she has made long eye contact with me to the point where I have had to look away first and where I've felt a little turned on.. I know it sounds like this could all be meaningless but I honestly felt like there was something fishy behind what she was doing.. I suppose she was either testing me / my loyalty to her friend or she thinks that I'm attractive and is playing some sort of game. Any opinions?? I feel weird about seeing her again
I know this was posted in the past but I'm loving me for exactly who iam❤️🧡💛💚💙💜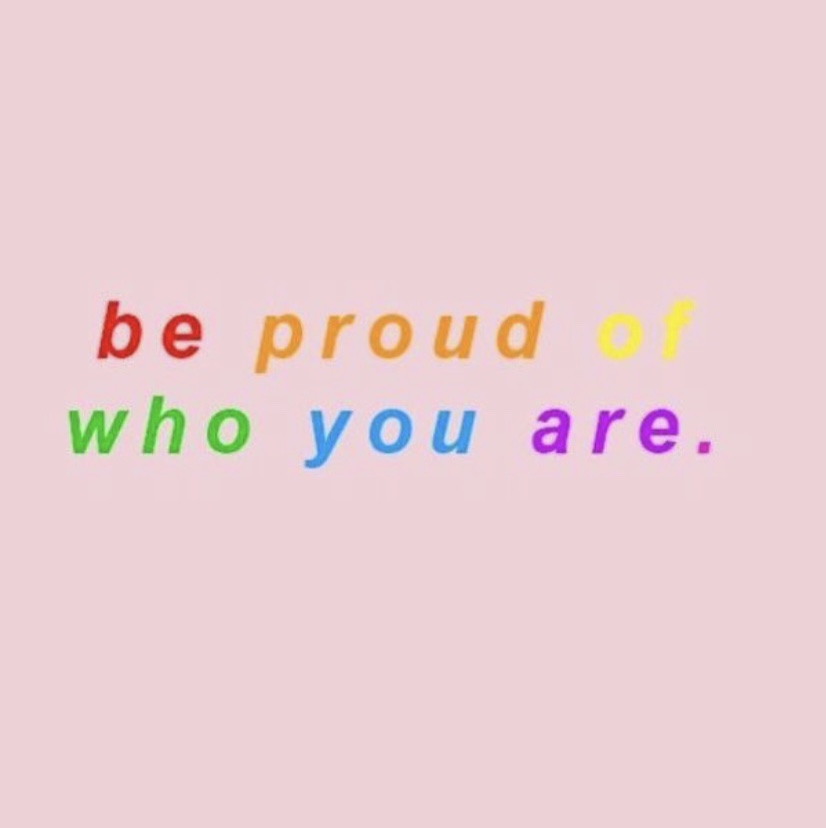 I'm bi but I feel like I'm ace and/ or aro and I don't know to figure it out.
A wizard asked me to proof read one of his scrolls last week... Actually it was more of a Spell Check… But when it came to become a book… I had you make sure it was Spell Binding!!! 😂🤣😂
Dealing with dysphoria and dysmorphia and i hate myself so much that i resort to SH. fuck this. my mom will never understand me.
Some of the most comforting words in human interaction are "me too." That moment when you find out that your struggle is also someone else's struggle, that you are not alone in this journey and you feel the comfort from being heard and safe in their presence. 🤗
Is anyone available to talk 😔
Being single is better than being manipulated/abused and hurt. Be single and own it. Give yourself what you're missing, be who you need and prioritize self love! 💜