I just got done with a 20 page paper... now I have to finish my 40 page paper!!! 😫😫😫 I hope everyone is doing well with their studies... we got this!
I am behind by one assignment ams Im freaking out!
How does one get motivated to study? Thanks!
Hi everyone, I'm 24 and would like to try going to college again. I've been there for a few spotty semesters throughout my YA life. And I'd really like to actually get a degree but honestly, I feel so old and stupid compared to how I felt even just the few years ago since high school. A lot has happened in my life and I dont really know how to be a student anymore, but I know that all I want to do is learn. I feel like I'll be out of place in a classroom of younger students, that are probably more aware and up to date than me. I was smart in grade school, but I've become, well, honestly quite dumb compared to that me. Idk how to even prepare to start studying and learning and "studenting" again..
I have been notified that I failed one of my units this semester and It was a threshold exam so regardless of how well I did in my assignments I had to pass the exam with 50%. Now I have to wait until next year to complete this semester again because I can't continue my studies if I didn't pass this unit. I feel like the biggest failure and so lost in life and now I have to stay another year in uni when I was supposed to finish this year and graduate.
I feel so out of place applying to retail jobs when most of my experience is being a teacher. Trying out new things and I need just a temporary part time job. Any advice?
I wish I could go back to college. I miss my classmates there
Just a suggestion to those of you out here starting or thinking about going to college google CLEP college level entry program talk to your dean of admissions and ask about this standardized test they have them in different subjects you pay a certain fee and if you pass the test you get awarded 3 college credits I believe you can take 4 tests in one day for up to 12 credits figure it this way you save on books and the money for the class most tests are $50.00 they have sociology Spanish etc
Hi y'all! Can I put on this group my daily to do list for motivational purposes? Thank you!
Join me in giving a warm welcome to the new members that joined our community! 💫
Daily affirmation: ✨I turn my dreams into goals, and my goals into steps, and turn my steps into action.✨ Have a great day everyone! 😊
Any certificated MAs on here I need help studying
Feel free to DM me if you need study tips, advice, etc. from an upperclassman at Harvard! 😎
I'm beginning to think that my job is scary. My thoughts have been so bad since I'm not on medication. Last year I was working so hard, I was very confident and had fun but now I just have such strong anxiety everyday
Research for Smart Serve 🔲 Research for role General Evaluator 🔲 Read a bit of nutrition book 🔲 Plan out Coffee shop reading 🔲 Organize desk 🔲 Message/call important people 🔲
Anyone studying for the GRE? It's making me want to pull my hair out!!! 😩😩
I'm going back to Uni at some point. I love learning for the sake of learning and not to succeed or make money. I genuinely just enjoy studying. When I return to university, my plan is to study classics more in depth aswell as architecture
I really wish I would stop believing in my ability to push through and just withdraw from classes before the deadline. I'm already disappointed in myself because of how far I've fallen from the straight-A student I used to be, and slowly drowning my GPA will have some serious consequences if I never figure out why I'm no longer capable of doing my best.
Pretty sure most of uni has been about trying to feel less shit and tired all the time
Ain't been a month and I'm done with college
That time of the year again! 2 weeks since classes started, I've been able to retain this spirit for now. 😂 How are you all doing?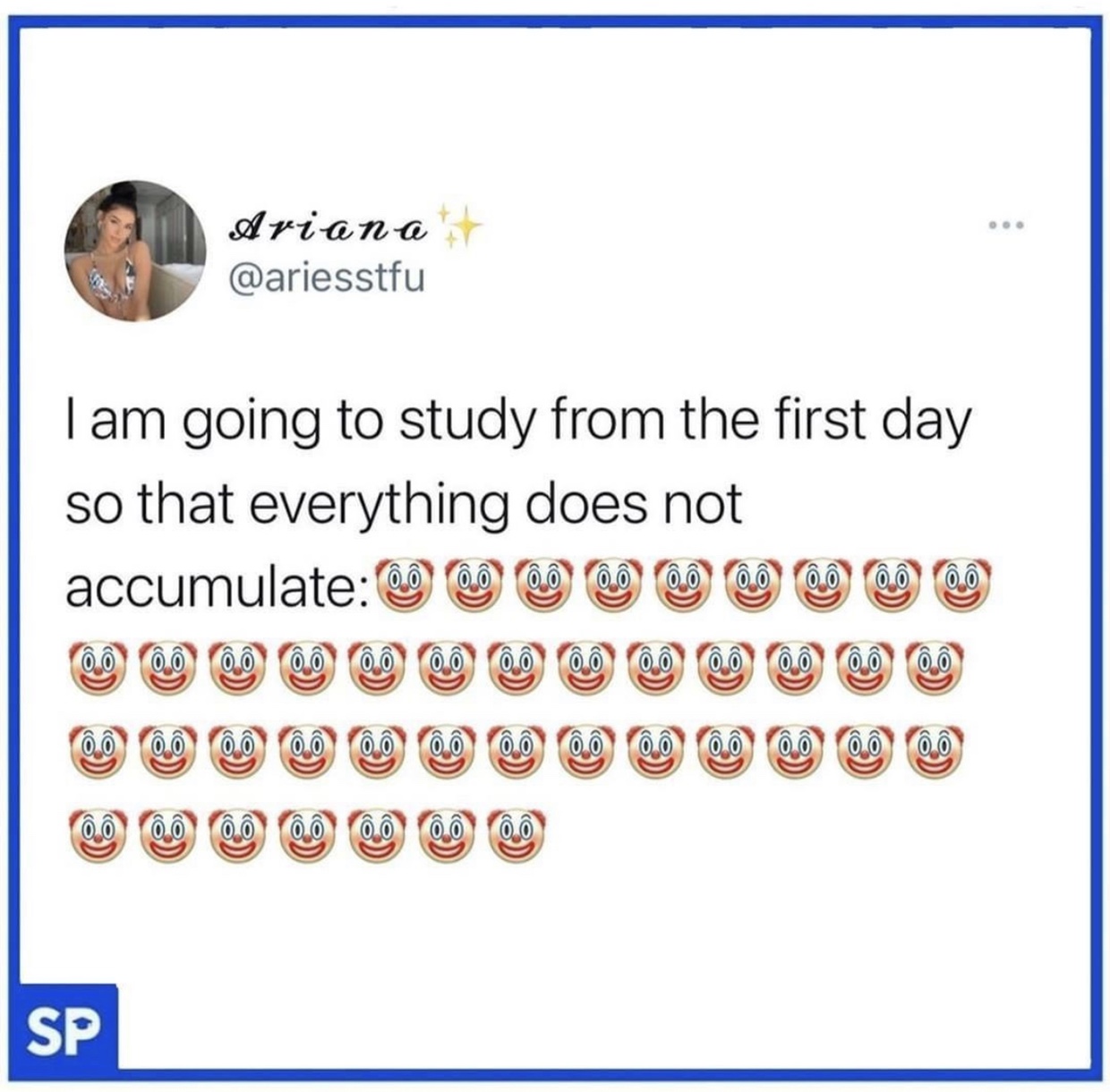 Today was my first official day of college. I've been out of hs for 6 years now. I'm finally starting to feel proud of myself again. Goodluck this school year, everyone🤍
Anyone from the UK and can talk? I need someone rn
Tomorrow I my first every college interview am nervous and also very happy and excited please pray for me so that I can perform properly tomorrow 😃😃😃😃😃
I just wanted to share my college experience w everyone I never graduated high school so I went to this community college and earned 24 credits and got my ged without having to take the test So my counselor suggested I keep going and I ended up w 60 credits and earned my AOS degree and went to a four year and earned a BS degree This was all done and I graduated at 29 So if I can do it so can you I worked days and went to night classes I did it
When I finished college, I felt like my brain has been fully fried from all the studying, worry, and stress. Had to deal with a lot of strong headaches. On top of that I basically had zero friends. I also feel like I forgot almost all what I studied so easily. I cared a lot about getting good grades but I also had fear about failing. College sucks.
Reflecting a lot on college, how I spent the last 5 yrs. One of the reasons of why I'm never gonna have kids is because of the standardized academic system. In K-12 , school just feels like hell besides the academic , you have to deal with bothersome classmates. The way I would describe college when compared to K-12 is that it's simply a different type of shit.
Anyone have any suggestions on how to make some extra money while in school I'm already working one job and don't know if I can handle a second but am struggling financially which has been making my mental health issues a lot harder to cope with any advice would be appreciated
Hi I'm studying a personal trainer course online at home in may 2021 I passed my last practical assessment and I'm have way through my work but I haven't finish my work booked yet and since may till now I'm being lazy and a bit worried about getting back into it and finish it Any advice that someone can help me
Hi! Don't know if it fits In this group, But have anyone Else had issues with taking a mental health Day to recover and feeling guilty about it? Even if it's a less important class that you Can study from home etc. I always feel guilty for not showing up But I know I need a break.