Loading...
Hi, my name is Oliver and I am 37 years old. I have been diagnosed and battling many mental health conditions since early childhood including bipolar disorder, borderline personality disorder, anxiety, depression, trichotillomania and addiction. Due to my erratic behaviours, that I can't control I have lost so many friends, family, jobs and am now feeling so isolated with no friends where I live and no one to talk to who understands me. I often react impulsively and inappropriately towards minor situations and my emotions are all over the place and this makes people either run away from me or me run away and shut myself off from the world because of the guilt and shame I feel which can last for weeks and even months. I've been through numerous types of therapy, psychological and psychiatrical, spiritual, mindfulness, meditation, rehab and I manage to stick to them for a while then I feel better and stop them and well as you can imagine things go from being better to down right lows and on the verge of mental breakdowns. It's a vicious cycle that I want to break but I hate the idea of having to take medicine for the rest of my life. I also know when I get the motivation to try and change I rush into things and want it all at once which all of my doctors and therapists have suggested against. I am hoping that this app and program and by taking small steps at a time this will help me to change for the better as I am fed up of all of these negative feelings and just feeling out of control. I really am hoping I can change my life, it is embarrassing at my age to still act in this way and I so badly want this to change. Any of your support or words of kindness would be most welcome as I could really do with them right now. Wishing everyone on this journey a healthier happier life, myself included. Take care
My mental health is starting to spiral and I feel like I have no one to talk to about it which causes self destructive feelings thoughts and behaviors. My so called friend is mad at me over the dumbest thing and is giving me the silent treatment like a toxic pos. The local mental health place isn't answering my calls or being helpful. I really need my medication and it feel like nobody gives a fuck. Then again nobody cares about Mens mental health anyways until it's too late. Please reply to this instead of liking it. That's triggering to me and it makes me feel like my thoughts are right
1 Reply
Yoo im out today jis wish i hadah girl doe.
Hi guys, Does anyone else with bpd tend to crave possessive and controlling relationships?
3 Replies
Join me in welcoming Dawn to show your support. Reply and say hi 😊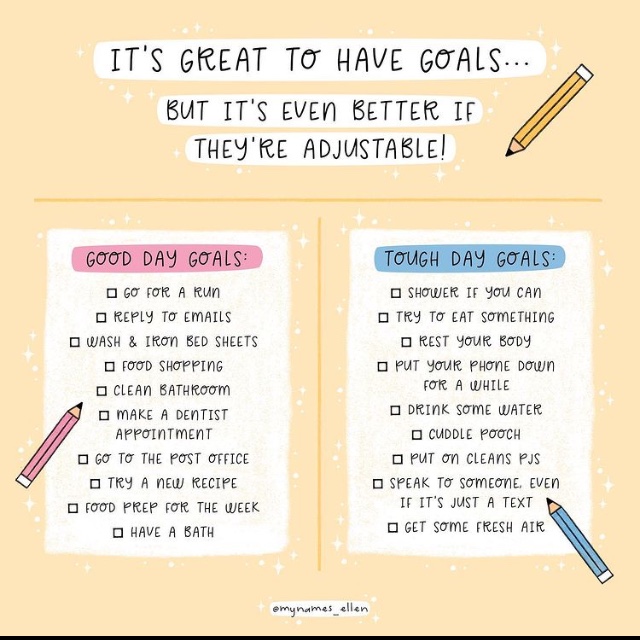 So I've been left without anything for a decent meal till next week and what's left is scarce itself the leccy is once again low and I've had all my baccy used by others on top of all that I've been getting nothing but shit and what feels like bullying from what are meant to be mates here and yeah fair enough I will add it's not all bad but atm I'm being driven to exhaustion I'm getting fuck all in return for what is literally just about everything I got and it's a piss take I'm now the one always cooking always cleaning always doing everything because nobody else will and like finding the only squash I have left pretty much empty in their room and yet I'm meant to laugh at something said sorry but unless cunts going to get more squash I won't laugh because nothings funny to me in that moment I've just found out that's pretty gone and I can't get more till next week when I'm paid and worse of all being I was promised money to help from him and he just didn't bother in the end and used it for himself knowing full well I needed it sorry for long post and language used but I'm honestly done and I'm nervous posting because if he finds out I'm screwed even though it's just bitter truths
Everytime I try to get help for my BPD, Im automatically prescribed meds. Its frustrating cuz I dont want to take meds to cover up the behaviors, thoughts, and actions... I want to figure out how to deal with them or stop them.
Join me in welcoming Sancia to show your support. Reply and say hi 😊
2 Replies
Good morning all! Hope everyone has a blessed day🙌🏻 any fellow Brits want to chat? Hit me up😘 xx
Join me in welcoming kendall to show your support. Reply and say hi 😊
Hello, does anyone go to therapy for abandonment issues? If so please send me a message on some treatments you're experiencing. 💛
I'm very very very Angry 😤
He won't get out my head no matter what I do help??
Join me in welcoming Sophie to show your support. Reply and say hi 😊
2 Replies
Today was hard to manage. BPD plus raging hormones... such silly, nonsense things got to me today, and way more than they ever should have. I fought back tears for 3 hours on a zoom call so I didn't bother my friends with sadness I couldn't understand or validate, despite the tears, the lip tremors, the nausea... It wasn't a bad day. It was mostly lovely! Just a couple tiny things pissed me off, then I was sad, then weirdly lonely for a moment, and now tired despite that I'm not the sleepy kind of tired. I want to be done "reacting". I just want to be calm and observe. Today I just need to accept it's a rough day. Endure it, and try again tomorrow.
I wanna have friends but I seem to not be able to get along with ppl are usually mean to me tho
2 Replies
Hey you guys I need help regulating my emotions, please tell me what has helped you? Don't be shy, please please help me
Join me in welcoming Courtney to show your support. Reply and say hi 😊
Join me in welcoming Shay to show your support. Reply and say hi 😊
2 Replies
I hate life right now. I just feel so hopeless.
Just coming to the conclusion that no one actually fuckin understands me and that I'm just annoying and make my own problems and I don't care
Join me in welcoming Gwynnith to show your support. Reply and say hi 😊
I recently found out I have bpd and I feel like its tearing my relationship apart.
Tbh I think it's possible I have Borderline Personality disorder but I don't wanna seem like a hypochondriac nor self diagnose myself Ofcourse. I tend to align with a lot of symptoms. I do have depression and anxiety. I read something about it can be mixed up with PTSD. Tbh I want to learn more about it if anyone could reach out to me?
3 Replies
Join me in welcoming Emma to show your support. Reply and say hi 😊
2 Replies
My bf and I broke up and I'm a mess. I miss him so much.
4 Replies
Hi everyone I am a sober woman living with BPD for over 2 years looking for some new friends and support! 💕
I know literally no one cares but!!! Yeessss i am alive!!! Honestly i did pay for a year subscription but i haven't been whiling or wanting to post on this app…. I feel as though i am sharing too much and too quickly. This concerned me and my therapist, she suggested i take some time away from social media. After some interesting sessions i decided to stop seeing her. I'm legally and morally unwilling to truly explain details but i assure you that it is ok and normal to seek a new professional. Im on a waiting list and in close contact with my family doctor who calls me often. It sucks because i feel extremely isolated and alone rn.
1 Reply
My mom literally told me the other day that I haven't self-harmed in 4 years. Yes she really told me that I haven't self-harmed in 4 years she didn't ask she told me. I truly don't understand my mom she doesn't feel like my mom I've never felt like I was raised by her.. I was only there to make her life easier and I think that it's affecting my relationship with my fiancée who has lived with me and my family for 4 years.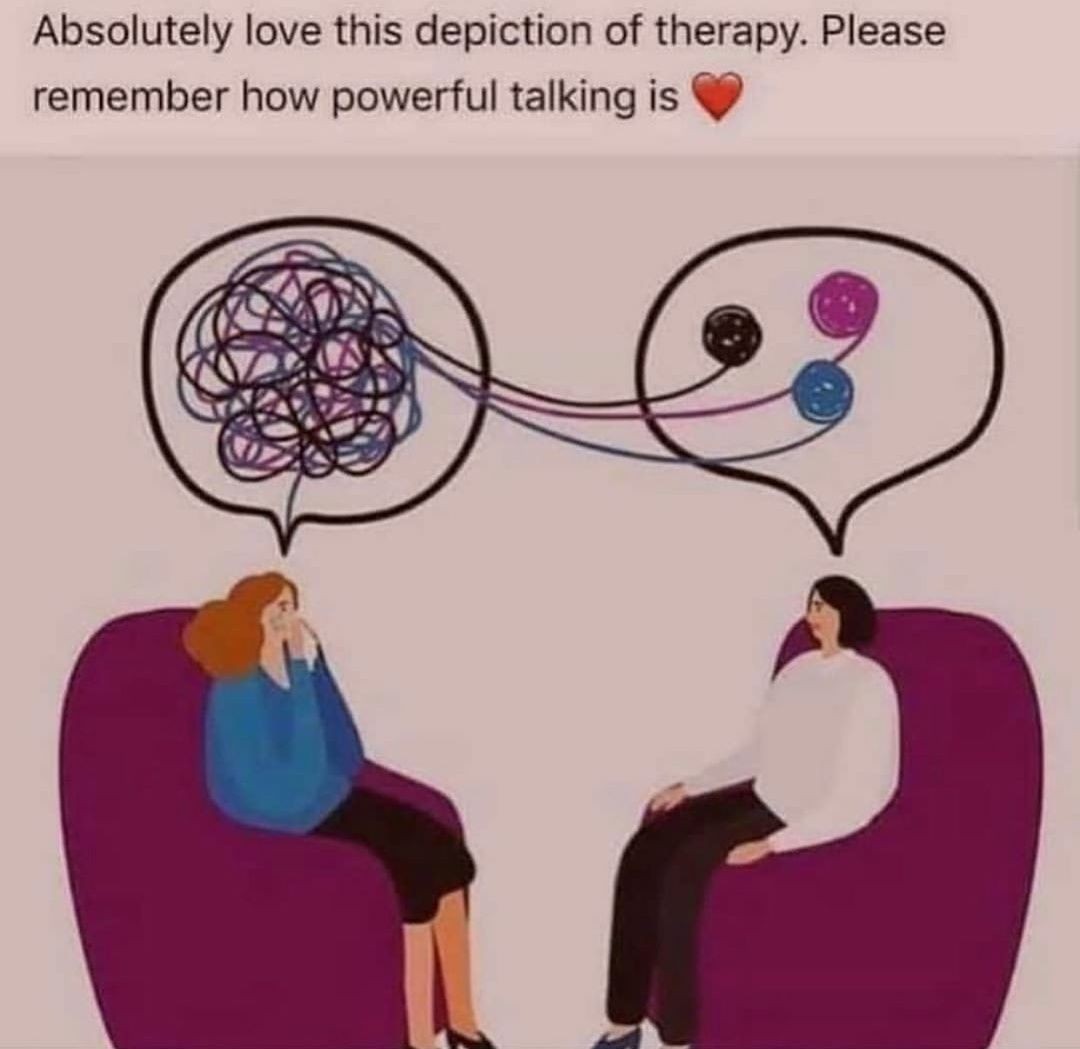 I understand how hard it can be to talk about how we feel, but this image shows how it can help. ❤
6 Replies
Join me in welcoming laur to show your support. Reply and say hi 😊
3 Replies
I truly loathe myself right now. Ive been so mean in a certain relationship and idk..